What Makes The Best Men's Skincare Routine? Following 7 Simple Skin care Steps
If you are looking to level up in your personal hygiene, appearance, taking care of your skin will go a long way whether you are looking to close a new business deal or in your social life. The first part of that journey is your personal care, especially your skin. Proper
skincare
and hygiene can go a long way in boosting your appearance and self-confidence.
  And, there is no lack of information on grooming. A quick search leads to a boatload of advice that either is too confusing or not approachable and ultimately, makes us grab the tried and true '
bar of soap
+ water.' There is no better investment than the
care of their skin
. Once you have a good
skincare routine
down pat, adding it into your daily routine is easy.
7 Things A Man's

Skin Care Routine

Must Have!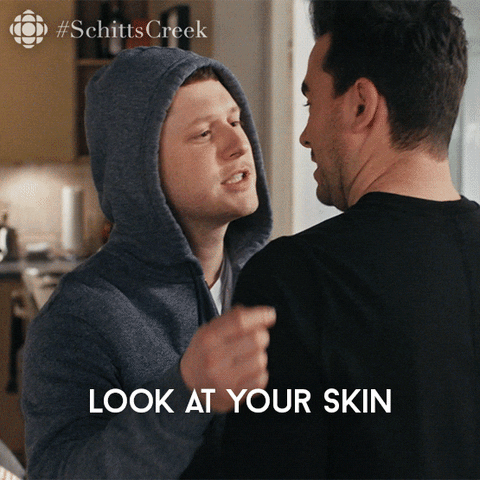 We get it. The
Men's skin
industry has you longing for a choice that is simple and sustainable. Sifting through the shelves of your local drug store, Nordstrom's, Sephora and hundreds of listings on Amazon to find what fits your skin is not simple. The whole process would be a lot easier if you just knew where to start in the process.
That's where we are happy to help; we present to you the seven
different products
that should be part of your daily
skincare routine
. If it feels overwhelming, remember by the end of part seven, you'll be on your way to becoming a
Men's skincare
master and more importantly getting results while avoiding
acne
breakouts and other skin situations.
1.    The Cleanser
The
first thing
of
great skin
is a great
facial cleanser
which makes it the first part of your routine and one of the most
important steps
. To completely eradicate those pore-clogging impurities, wash your face twice a day with it. It should be the
first thing
to touch your face in the morning, and it should be the first grooming product you reach for in the evening.
The morning cleansing will rebalance the pH level, removing
excess oil
, and get your skin going. The evening wash will remove
grime
&
dead skin cells
that have collected throughout the workday.
Pick either an oil-based or water-based
facial cleanser
. The first will deep clean and rinse away with
warm water
every speck of bad stuff that has drawn to the face. The second will get the same result but be exceptionally gentler on the skin. Both make for robust and premium
men's skincare
, but we would recommend starting with a natural water-based
facial cleanser
with
hyaluronic acid
; the difference lies in the
skin type
needs from them. For more
sensitive skin
, a water-based cleanser will
better care
for the skin. It doesn't strip away essential moisture while doing wonders for the derma.
The popular belief that is switching from freezing cold water with scalding hot opens pores is a myth. Don't fall for it. The more likely outcome is irritation or blood vessel breaking. Always, we repeat, always use
warm water
and wash your hands before applying your products.
The best way to get your skin back to its prime is a cleanser because soaps are too alkaline and
face washes
are filled to the brim with
salicylic acid
,
glycolic acid
, zinc sulfate, and other astringent chemicals
. Both dry out the skin and are too harsh on it. They may seem like reasonable steps to excellent grooming but aren't. Think of them as paint strippers, best to be avoided.
2.      The
Toner
A quick fact: your skin's pH is around 5.5, and water is approximately 7 to 8. Every time we cleanse our faces, it necessitates restoring the natural pH. That's the job of the facial
toner
. It dials the notch down and brings it to be acidic.
What's more, they detoxify skin and help smooth it out.
Most top-end
toners
are infused with effective antioxidants and other great ingredients like
aloe vera
,
vitamin c
, and
hyaluronic acid
. A single spritz is enough to take the face from zombie land to a 'Blue Steel" moment.
The correct method to applying a
toner
is spraying it on a cotton pad or Muslin Cloth and then dabbing it on the face right after you're finished with the
facial cleanser
.
3.      The Exfoliant
Diligently cleansing and toning the face takes you to the finish line most days. But just like the body needs some R&R occasionally, the face requires revamping from the real disaster living life plays on it. Here enters the third grooming weapon – the exfoliator.
A Physical exfoliant or a facial
scrub
is one option.
It clears away the congested dirt and dead skin with a single
wash and improves the texture of
men's skin
.
If you're looking for a gentle touch, start with an herbal formula. Massage the
scrub
immediately after cleansing and toning then rinse off to emerge with a refined feel with nary a damage to the skin. This is a great option for
dry skin types
and
normal skin
types
A Chemical Exfoliant or
face mask
is the other choice.
Those face-shaped papers replete with holes for eyes and lips that we see everywhere on social media draw out the last of
dark spots
and
free radicals
with high accuracy.
They turn the skin as smooth as marble by providing the right balance of TLC. Packed with moisture, collagen, and other natural ingredients,
face masks
rejuvenate the face right when it gets slightly dull. This option is great for
oily skin
aka
acne prone skin
.
Face
scrub
or any exfoliants should be used sparingly as cleansing solutions mixed with abrasive agents that mechanically peel away the outermost layers of the dermis
.
The best result of exfoliation arises with gentler and natural products. The ideal frequency should be one or two times a week, that's the limit for
Exfoliation aids in freeing ingrown hair, which makes slicing them off easier. But using a
scrub
right before a shave is unwarranted as the almost daily ritual already gives the skin a severe exfoliation, just mechanical. Adding a step to it will irritate the face and
facial hair
further.
Scrubs
or
face masks
are best left for shave-free days.
4.       The Moisturizer
Even a man who doesn't groom at all cannot deny that arguably, knows the most crucial
skincare product
is a solid moisturizer packed with naturally effective ingredients like
glycolic acid
,
aloe vera
, and antioxidants. They are a necessity to keep
men's skin
healthy, youthful, and always in decent condition. Think of
healthy skin
as a plant that needs watering, once a day. The hydration, in this case, relies on "watering" the skin with moisturizers.
Effective cleansing (and exfoliating) scrapes away some of the skin's nutrients. Moisturizing replenishes them, adequately and adds a bit of pick-me-up stuff that it needs.
When not exfoliating, moisturize the skin directly after you've finished with cleansing and toning your face. The yardstick in moisturizers is one that matches your
skin type
and without toxic chemicals like parabens, sulfates, and phthalates.    
Strictly speaking, the strident man would incorporate the next three steps to the daily
skincare
custom.
But if you don't have the time to expend energy on a 7-part regime every day, moisturizing can be the final step
. Another advice here is to start simple if you're stepping up your grooming routine. The first four steps will help you figure out what works best for your face and reduce the risk of applying too many unknown products simultaneously.
For most fellas, grooming regimes are created out of constant trial and error. They are rarely if ever, based on tested and proven
men's skincare
routine. This is not your fault; men are being pitched conflicting advice from companies and influencers as they are looking to sell you their latest product.  We promise if you go past the one-step
men's skincare
routine of just soap and water, you will see amazing results and boost your confidence as well.
5.      The
Serum
Too dry, too wrinkly, too oily, too dull – we all have something we don't love about our skin. The one
skincare
action that can transform all of it is a facial
serum
. Chances are you've been moving through life without even realizing the need for it, but as we said,
serums
can fix more than just superficial problems. The kind of
serum
you will need depends on the issue that has to be addressed.
From soothing irritation to offering a clean complexion, from diminishing
fine lines
to reducing pores, a
hyaluronic acid
serum
can give results in an instant.
A potent
serum
comes with a hefty price tag, but it's the triple effect of soothing, hydrating, and repairing that is addictive and worth it.
Adding a
serum
to the routine isn't necessary, more so if you pick a mediocre product. But the
best products
take a targeted approach and gives the face that extra something and limit damage from
uv rays
. The molecules of a
serum
are smaller than cream; therefore, they penetrate deeper and reach layers; even a sophisticated moisturizer won't.
A top-notch
serum
will prevent water loss, rehydrate in an intense burst and retain healthy cells.
A morning
serum
is not meant for sleep-time. To keep the skin healthy and young, sleep with an overnight product that has retinol it. Take a few drops of it on your palm and massage into your face. The application of
serum
is always after cleansing, not after moisturizing.
6.      The
Eye Cream
For every man, who has turned away from a tired-looking reflection and eyes that tell the tale of advancing years, an
eye cream
is a mandatory part of
skincare
. The layer around the peepers is paper-thin; it has no soft tissue or muscle.
In other words, it loses elasticity, darkens, and wrinkles faster than anywhere else.
A high-quality
eye cream
brings a dual effect: it slows down the clock on aging and illuminates the skin. Barring an eyelift, an
eye cream
is the only solution to ridding
fine lines
.
7.     The
SPF
There is more to a good
skincare routine
than removing debris and hydrating. It includes protection which brings us to the last part of your care arsenal and often the most neglected.
To safeguard the skin from the ravages of the sun, yes, even during the winter months,
SPF
sunscreen
is essential for
men's skin
.
The sun is never the cure to your skin, despite when the temperatures are below zero.
Skin damage, aging prematurely, and
skin cancer
are all effects of the sun hitting the skin directly. It is, indeed, the worst enemy. Pick a light
sunscreen
with a non-greasy touch that sinks into the derma super quickly. It will courteously do the
sun protection
for you.
 As we said before, a slap
bar soap
, a splash of water, and a drug store body spray is not doing yourself justice. You deserve to put yourself in the best light possible. If you don't want to miss out on the anti-aging benefits of grooming, then take the extra step. If you are skipping the
serum
, then apply the
SPF
after the moisturizer daily. You only need to put it on once, a few minutes before you step out of the home.
A 'Fail-safe'
Men's Skin
Routine
A gentleman's cleansing routine happens behind shut doors, as it should be. The pursuit is personal and varies from man to man. But the lack of proper
skin care
habits can produce conflicting results. It can lead to bad habits like towel-drying the face before a shave, or it can create an ineffective regimen like exfoliating every day. To top it off, myths flourish, and half-baked recommendations all over the internet. 
With these facts in mind, the above easy to follow
men's skin care
steps form a failsafe routine that will have you looking decidedly extra polished. To sum it up:
cleanse (twice), tone,
scrub
(rarely), moisturize, hydrate, and protect
.     
Once your skin becomes accustomed to the basics (cleanser,
toner
,
scrub
, moisturizer, and
SPF
sunscreen
), move on to
serum
and
eye cream
. Believe when we say that the added minute or two in front of the mirror every morning will leave you better prepared for whatever the day might bring. 
The key to feeling sharp and confident in your skin every day is consistency.
Good news
, follow this
skincare routine
, and results of
great skin
and
better care
of their skin will be achieved in no time.
---